When your travels take you to New England, be sure to visit the largest museum in Salem, Massachusetts. For hundreds of years, and even today, some people have believed in witches. There are sites on the Internet that claim to be hosted by witches. There are many lurid stories that tell about supernatural powers that witches possess and how they use that power to cause harm and do damage to people and property.
In the 17th century, people in England firmly believed in the existence and power of witches. They brought that belief with them when they settled in America. In England, being a witch was a crime against the state. Any serious study of American history will include the account of the Salem Witch Trials. It was in Salem, Massachusetts, that a whole town was whipped into a frenzy of fear by rumors, stories, and false statements about some residents who were suspected of being witches.
Today the Salem Witch Museum graphically illustrates what happened in Salem in 1692.
Some years ago, I went to the Salem Witch Museum with my wife, two children, and myself. We were impressed by the displays with life-sized figures portraying the main events that occurred. More than 20 people were killed, with most of them being pressed to death by heavy weight placed on their bodies. The great majority of those killed were women. They were executed for what was called "the crime of witchcraft." I was impressed by the way the museum makes effective use of darkness and light in its displays. The contrast adds to the feeling of being a part of the actual events in 1692. Even though my children are adults now, they remember what they saw and lessons they learned.
If you go to the Salem Witch Museum, there are some things you need to take with you:
Take your children. This museum will impress them more than most, and they will learn more than just the history of the events that took place in Salem.
Take your imagination. What you picture in your mind will fill in any gaps in what you actually see at the Salem Witch Museum.
Take your love of learning. It is a fascinating part of our history.
You need an hour or so to visit and enjoy the Salem Witch Museum. You may be surprised by the location. It is housed in an old church building. With the religious implications of the events that took place in Salem, the used-to-be a church location adds to the sense of mystery. The area that was the sanctuary is large and provides adequate space for the events the life-sized figures portray. During your visit you may be most impressed by the display of Tituba telling the village children stories about the devil and the depiction of the hanging of George Burroughs.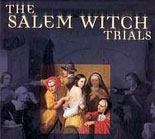 Learn about the history of the Salem witch trials at the Salem Witch Museum