Universal Studios Hollywood is a theme park and a movie studio all-in-one located in Los Angeles California. Universal Studios is a popular vacation spot and families are always looking forward to going to Universal Studios Hollywood so they can take their children either on vacation or just for a great time. Children of all ages love it and there is something for every age group. It has become so popular that there are Universal Studios theme parks in countries like Japan, Singapore and Korea, among others.
Universal Studios Hollywood has a number of attractions and they are located on different levels of the park. All levels are connected by the Starway which is a series of escalators. Universal Studios Hollywood has an upper and a lower lot and both are filled with a variety of attractions.
The upper lot of Universal Studios Hollywood has WaterWorld, Shrek 4D, the Simpsons ride, Universals animal actors, Terminator 3 D, the Universal House of horrors, world of Hanna-Barbera character, Captain EO and the studio tour. The studio tour is a tour of the different sets from certain movies such as Jaws, Psycho, Flash Flood, the Fast and Furious, the Mummy's Tomb and more.
The lower lot of Universal Studios Hollywood has Jurassic Park - the ride, Revenge of the Mummy- the ride, the NBC experience and coming soon, Transformers.
Universal Studios Hollywood studio has much more for people to see and do. At any time when the studios are open you can see different characters on the park grounds. Some examples are Marilyn Monroe, Woody woodpecker, Andy panda, characters from the Flintstones, Scooby-Doo, Shaggy and more.

At Universal Studios Hollywood you will see the characters from some of the classic monster movies as well. So you might be able to see Dracula, Frankenstein or the Wolf Man wandering around on any given day. There also characters from some of the very popular film releases like Back to the Future, an American tail and curious George.
Recently Universal Studios Hollywood acquired a few other popular characters like Dora the Explorer and SpongeBob SquarePants. They recognize that SpongeBob is extremely popular among children and it's a delight for any child to see SpongeBob walking around. As with anything, Universal Studios Hollywood has to keep up with the times so the site is ever-changing. Different characters come and go based on popularity and interest in the desire to give people what they want to see.
Of course what is more important or welcomed at the end of a long sightseeing adventure filled day then some food and treats. Universal Studios Hollywood has made sure that they have a variety of eateries to make their guests happy. In the upper lot you can find Doc Brown's fried chicken, the Cyber Grill (pertaining to Terminator 3-D), Shrek Snacks, Hollywood Grill, Hollywood Cantina, Flintstones drive-in, Mel's diner and the Krusty Burger.
The lower lot has some restaurants as well. There is the Jurassic Cove and the Jurassic Cafe, both having to do with Jurassic Park - the ride. There is also a Ben & Jerry's and a Panda Express. There are shops that are related to the attractions too. There is Marvel Mania, Cyber Image, Tomb Treasures, Jurassic Outfitters and others. Universal Studios Hollywood visitors will be happy to know there are some plans for future attractions as well, such as King Kong 3-D and Transformers - the ride.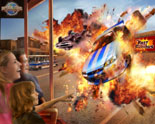 Plan a day of fun at Universal Studios Hollywood